The Commission's Headquarters are located in Hobart, Tasmania, Australia (Article XIII).

In accordance with the Headquarters Agreement between the Commission and the Government of Australia, the latter, supported by the Tasmanian State government, provides office accommodation for the Commission's Secretariat.

Led by the Executive Secretary (Article XVII), the Secretariat supports the annual meetings and carries out the day-to-day functions arising from the work of the Commission and the Scientific Committee, including:

• facilitation of communications with and between Members;

• production and distribution of publications;

• receipt and management of scientific data;

• central management of the Catch Documentation Scheme; and

• monitoring of compliance with Conservation Measures and other decisions of the Commission.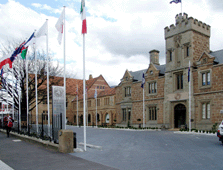 The Secretariat is provided with an annual budget which is approved by the Commission.
Management of these and other funds is controlled in accordance with the Financial Regulations (Article XIX).
Secretariat staff are employed under conditions set out in the Staff Regulations (Article XVII).
The Secretariat is open to enquiries from the CCAMLR community as well as the general public.
Translation
While the CCAMLR Secretariat operates mainly in English, its communications and publications are generally issued in all four official languages specified in the Convention: English, French, Russian and Spanish (the four official languages of the Antarctic Treaty System).
Translation of written material is carried out by teams of accredited translators employed permanently by CCAMLR, which fosters consistency of terminology, style and standards while maximising logistical advantages.